The fine line between genius and arrogance
Superbowl XLIX takes place this coming Sunday, meaning that there is a week's worth of build-up, blanket coverage and hype sweeping America (as well as falsely forecast blizzards).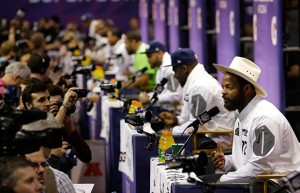 On Tuesday this week, the annual circus frenzy that is Superbowl Media Day rolled into the stadium where the big game will be played in Glendale, Arizona.
It's always a crazy event but, this year, one player's handling of the media seemed somewhat odder than most.
Players and coaches for each of the two Superbowl teams are each given an hour in front of the massed media.
But Marshawn Lynch, the star running back for the Seattle Seahawks, clearly objected to being wheeled out in front of the media and had other ideas. For, while those selected to talk to media are encouraged to give as much of the allotted hour as they can, they are only obliged to make themselves available for four and a half minutes.
So, while other stars of the Seahawks roster – including quarterback Russell Wilson, head coach Pete Carroll and much-loved defensive loudmouth Richard Sherman – gave generously and graciously of their time, Lynch got up and left as soon as he could.
What's more, for the 270 seconds he graced the media for, the player nicknamed #Beastmode gave just one answer to any question reporters fired at him.
"I'm just here so I don't get fined."
Thirty times in those four and a half minutes Lynch gave his stock retort. And nothing else.
In the following day's media interviews, Lynch followed up his stock line with "You know why I'm here". Over and over and over.
So was this dreadful arrogance in the face of the media and fans that have played an enormous part in making him the sporting superstar he is or was it a bold, public stand for free speech?
I couldn't help thinking that, if I was a personal sponsor of Lynch or a financial backer of his Seahawks team, I'd be kind of narked that he was refusing to do his bit ahead of the 'biggest show on turf'.
After all, the man's clearly not camera-shy, having done pre-Superbowl commercials and press conferences for an insurance firm (Progressive) and what the Yanks call candy (Skittles).
And yet the reaction to his reticence to play ball (pun intended) was nothing short of turning Lynch into a martyr. His head coach defended his actions after Media Day and claimed that the Seahawks strategy is to let their players be whoever they want to be. Marshawn's team-mates rallied around him and the fans love the anti-hero quality.
So is that enough? Perhaps there's a lesson in here for all those in the business of communicating for brands using sporting ambassadors, such as our own work with GAC and Multipower, for instance, to let your guy's personality shine through, whatever that may be, and do the work for you.
As for the media Lynch so publicly gave the finger to? Well, the figures there tell yet another story.
By the end of the Seahawks' hour of media work on Tuesday, 64,000 tweets had been posted about or at Marshawn Lynch, with reactions varying from hilarity to admiration. That's more mentions on Twitter than any other single player or coach that worked the media on Tuesday. In turn, that surely means that anyone searching for Marshawn Lynch online is also going to come across, just as I did, the brands who pay him to be their ambassador.
The man's either an arrogant eccentric or a comms genius.